Spring Hill Laminate Flooring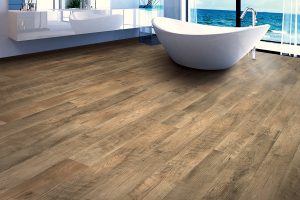 Affordable, versatile, durable, and attractive laminate floors are a spectacular option for any house or business establishment. They provide a wide selection of styles and designs without compromising floor strength and functionality. Precision Hardwood Floors, your best Spring Hill laminate flooring company, is here to get you the best laminate floors for your building.
Laminate floors are a layered combination of natural and synthetic materials permanently attached through a lamination process, creating a very economical and manageable alternative to the more expensive hardwood flooring.
Each layer of laminate flooring performs special functions, such as a layer for strength reinforcement and one for accommodating the printed designs, making it a truly versatile product that does not compromise durability and damage resistance. Most property owners who want a more flexible material to use for their floors choose this product instead of high-end materials because laminate floors are typically made to imitate the look and feel of hardwood and stone floors.
At Precision Hardwood Floors, we have seasoned floor experts trained in handling laminate floors. We are dedicated to ensuring that laminate floors are professionally and flawlessly designed, installed, and finished in any location in the city. If you are interested in getting high-quality laminate flooring in your home or business building, then look no further than Precision Hardwood Floors, the best Spring Hill, KS laminate flooring company.
Call Precision Hardwood Floors at 913-298-8545 for your Free Consultation!
Benefits of Laminate Flooring
When it comes to functionality, durability, and design, our laminate floors will not disappoint your needs. These are some of the benefits of getting laminate floors:
1. Durability
Despite how thin they are compared to, say, wooden planks, laminate floors are considerably durable. You don't need to worry about damage and pressure from daily activities, falling accidents, heavy objects such as appliances and furniture, and playing kids and pets. You also won't need to think about moisture damage or stubborn stains from, say, spilled liquids or fallen foods because laminate floors are one of the easiest to maintain and clean, among other flooring materials. The strong outer layer and resin coating of laminate floors make them resistant to scratches, impacts, moisture, stains, fading, and other common damages.
With Precision Hardwood Floors, you can expect that your laminate floors are sourced only from the most reliable suppliers in the state. We make sure that our units are meticulously quality controlled and selected according to industry standards. We only aim to provide our customers with the highest quality of laminate floor products, including the tiles and corresponding finishing materials. We assure you that our products last longer than average, and we can employ all methods of extending their lifespan to offer you the comfort of truly durable laminate floors.
2. Ease of Handling
Laminate floors are light and easy to manage. This trait entails many things. It means that installing laminate floors in your home or building will require considerably less time, effort, hassle, and mess. Coupled with the expertise and experience of Precision Hardwood Floors's professional floor specialists, you can get laminate floors in a short amount of time, installed perfectly on your subfloors, all these with minimal logistical effort and post-operation maintenance. Moreover, laminate floors make it significantly easy when it comes to repairs and replacements.
Laminate floors don't just offer comfort on the part of the installers. The texture and general layered structure of laminate flooring allow property owners to easily get rid of mess, stains, dirt, dust, splashes, and all types of mess and debris. Unlike other floor types like hardwood or carpet, cleaning up laminate floors takes very little time and effort, which is a huge asset for anyone's daily life.
3. Versatile in Design
If hardwood floors have design varieties according to the type of wood used, then laminate floors can imitate all those, and more! This floor type can also mimic stone and other floor materials. With laminate floors, you get the durability of heavier, high-end floors, ease of handling, and versatility in design for a considerable decrease in budget.
Fast and Efficient Professional Installation
Because laminate floors are easy to install, they are also often installed by homeowners as DIY projects. However, there are great advantages in getting professional help when installing floors, even those that are easy to handle, such as laminate floors.
With your top Spring Hill laminate flooring company, you can rest assured that your floors will be installed as efficiently and quickly as possible without compromising quality and leaving out tiny errors. We are trained to make sure that each detail is spotlessly handled with professional standards. With Precision Hardwood Floors, your laminate floors will be ready in no time, already perfect for use without any hint of installation error.
Full-Service Laminate Flooring Provider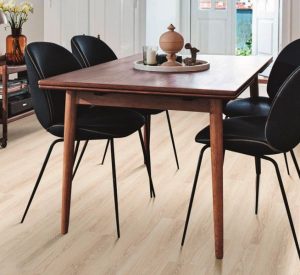 Precision Hardwood Floors is a leading Spring Hill laminate flooring provider, installer, upgrader, and all-around floor construction company. We are licensed and trained to provide comprehensive industry-standard construction work, from floor design and layout, consultations, project management, customer support, and ocular inspections to installation, repair, restoration, finishing, maintenance, and handyman services.
If you want to upgrade your floors to a high-end laminate floor brand, or if you just want to repair a few units of your floors, our flooring experts are dedicated to providing you with first-rate floor construction services wherever you are in Spring Hill. Whatever you need, we can do it for you!
Let's Talk- Free Consultation
We invite you to try Precision Hardwood Floors's stellar floor construction services and first-rate laminate flooring products, all in one package. Choose among a wide range of laminate floor options, with numerous designs, shapes, sizes, thickness levels, and other specifications. Enjoy a more economical alternative that is as durable and attractive as its high-end counterparts. Look nowhere else than the top Spring Hill laminate flooring company.
If you are interested in our services, feel free to contact us. We look forward to entertaining your questions and concerns and taking a closer look at your floor goals and needs. We want to hear all about your project vision so we can create a plan that will end up with the best floor outputs we can make for your home or business establishment. We can't wait to work with you!
Call Precision Hardwood Floors at 913-298-8545 for your Free Consultation!